Gynecomastia is an abnormal development of the breasts in men which can be caused by weight gain, breast cancer, side effects of drugs, etc. The problem can also be idiopathic with no obvious cause.
Depending on the reason and the patient's profile, our doctor will direct him to the choice of the most appropriate surgery and explain all the steps, the results and the complications. You can contact one of our specialist surgeons through the "online consultation" page on the site.
For who ?
The men most affected by surgery for gynecomastia are those who experience blatant visibility of their breasts and nipples. This disorder can be the cause of a certain psychological handicap which can in turn cause discomfort in daily life such as the choice of clothes, going to the beach, etc.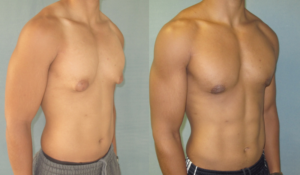 The intervention
An ultrasound mammography is systematic before the intervention.
The operation takes place in the operating room with general anesthesia.
Liposuction may be sufficient if gynecomastia is successive to obesity and has an average duration of 30 minutes.
If the cause is glandular, surgery to remove the gland with scar in the areola will be done and takes one hour.
Duration of stay
The duration of the stay is 4 days.
Post-operative suites
The appearance of some transient effects: pain, edema and bruising.
It is advisable to put a compression bandage on the chest for a month.
Result: almost immediate.
Complications of gynecomastia and their remedies
Following gynecomastia or breast reduction surgery in men, complications can arise, such as phlebitis, infection, hematoma, necrosis of the skin, etc.
Although these complications are possible, they are still very rare. But in case they arise, it is simple to treat them, depending on the type, with massages, drugs or in some cases, with the intervention of the surgeon.
The most important thing is that the patient is aware of the risks of these complications and at the same time is reassured by the possible treatments in this case.
Here, it is the role of the medical team and the care team of "Obesity & Aesthetic Surgery" who have the mission to supervise the patient and assist him.